The press bench with servo-valve is designed to simulate the automatic cycle of a die-forging press. It represents in all aspects what is available in industry.
Simulation of an automatic cycle of a die-forging press
Intended for the study of proportional hydraulics and the CAN BUS, this system is equipped with an EATON-VICKERS servo-valve, of the latest generation AXIS PRO 4 type. This component performs both distribution, and pressure / speed servo system functions and machine cycle programming.
Its dedicated software, PRO FX CONTROL, is used for valve configuration, supervision and acquisition of data.
The press is instrumented with various sensors that monitor pressure, flowrate, force, and position of the cylinder, and oil temperature.
A simulation tool, made up of 3 interchangeable springs with different resisting forces, is supplied with the press.
For which sector is this standalone telescopic crane bench intended?
It is intended for the following sectors:
Industrial maintenance,
Equipment maintenance (Agriculture, Public Works, and Parks & Gardens),
Agricultural equipment,
Maritime and naval.
Characteristics of the SHBP press bench
This bench is designed for carrying out the automatic or manual cycle exercises of a hydraulic press, with possibility of programming in "CoDeSys".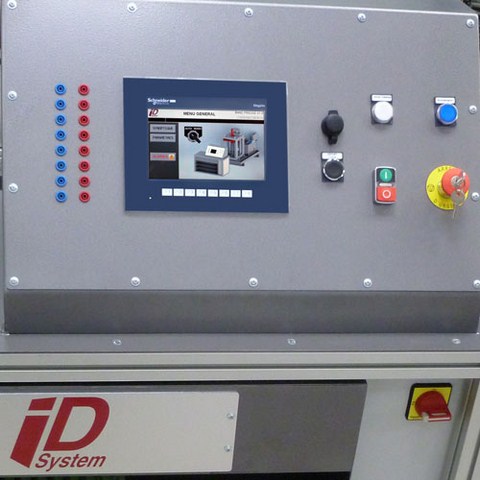 Hydraulic power station with 11 kW 3Ph motor coupled with a 22 cm3 – 140 bar gear pump
Cooling tower and heating resistor to keep oil at a constant temperature
3 interchangeable springs with different resisting forces
Colour graphic and touch dialog console
Demo video of the SHBP press bench
We already equip a large number of training centres, primary and secondary schools, and university institutes of technology (IUTs). We invite you to contact us so that we can define your needs together.