Yoann Gac's Portrait: from aircraft maintenance to hydraulic didactic benches design
Nothing could have fated Yoann Gac, passionate about aviation and aeronautics, to become a trainer.
He left Highschool to join the Air Force and starts working in an environment that he particularly enjoys.
He entered the EETAA Saintes (the School of Technical Education of Air force) then joined the Air Force NCOs Training School in Rochefort to become an airplane mechanic.
A dream comes true for a man who contemplated planes during his childhood.
There, he learned mechanics applied to aeronautical technologies; 6 years later became a flight engineer withhis diploma in his pocket. This allowed him to work on air planes and helicopters.
Seeking for change, he flew away to some overseas destinations to apply his technical skills on exciting and intense missions.
He spent 20 years on different missions throughout the world:
Mechanic on Boeing E3FAWACS: Airborne Warning & Control System
Flight engineer on Super Puma helicopter in Villacoublay : transport of the President of the French Republic and government members
Flight engineer and Hoist operator on Puma Helicopter: Army troops support and saving human lives
Flight engineer and Hoist operatoron Puma Helicopter: Protection missions of the French Guiana Space Center, fight against illegal gold washing (or mining), but also saving human lives in French Guiana.
However, Yoann felt like to settle back to land and to enjoy more time with his family.
He started out some intensive searches in the field of training and took advantage of the International Pairs Air Show in June 2013 to meet professional in this sector.
« AEROCAMPUS Aquitaine » was thrilled by his career and Yoann joined the teaching staff straightaway in September at the Flora Tristan High School which is part of "Aerocampus Latresne site".
He passed the CAPLP exam « Concours d'Aptitude au Professorat en Lycée Professionnel option maintenance des véhicules » a specific teaching diploma in high schools with a specialization in vehicle maintenance. Then, after one year in a Higher school of professorship and education – the ESPE (École Supérieure de Professorat et de l'Éducation) he got graduated with a "MEEF" Master's degree in Engineering Science.
Since 2013, he has fun in this new adventure; he really enjoys teaching and passing on his knowledge to young people. This is for him a daily exciting challenge.
His unusual background is an example for all learners to whom he teaches and trains on aircraft maintenance at the Aerocampus Aquitaine Site in Latresne, from 10th grade student to BTEC and sometimes for adults.
Today, his learning methodology is focus on practicing and so offers lots of practical cases. Nothing better than understanding how the aeronautical hydraulic works in real conditions. This enables learners to face the reality of the job.
He was then confronted with a dilemma: learning applied hydraulics to a plane but without the toxicity and high pressure of aeronautical fluid!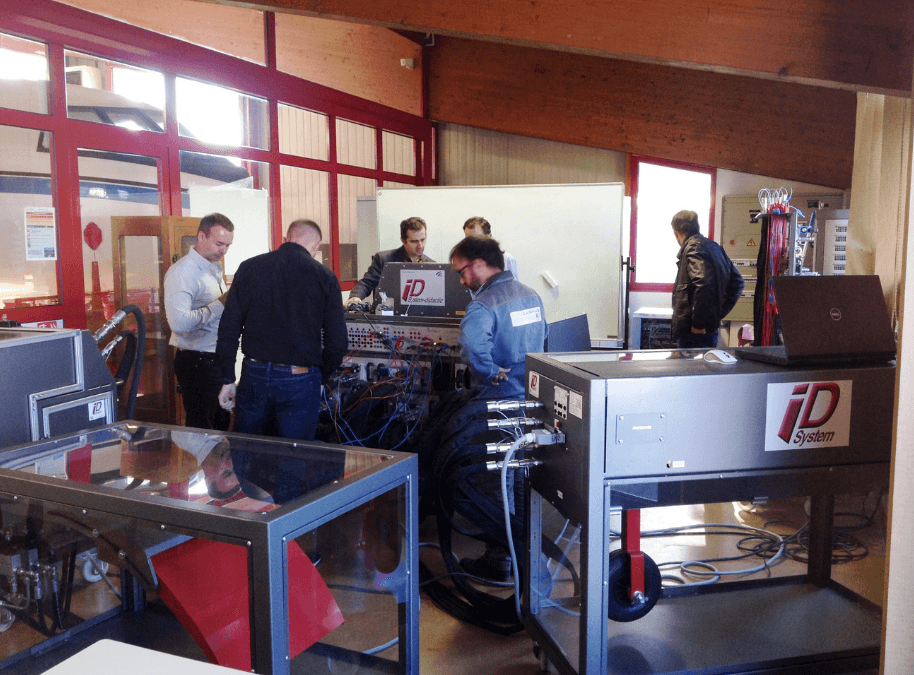 Commissioning the educational bench for aeronautical maintenance with Yoann Gac.
From this issue, Yoann expressed a need. He entered in contact with ID SYSTEM DIDACTIC and Mickael Langlais, Industrial Manager of the company, which proved its efficiency and experience in didactic equipments manufacturing.
Straight away upfront, these 2 professionals got on well. Despite they were from very different lines of business, they knew working together and shared their skills to efficiently complete this project: a didactic hydraulic bench dedicated to aeronautics.
Yoann Gac and ID System Didactic have been collaborated for 3 years in order to develop and design the educational material which reproduces the specific features from the aeronautical field (control desk with same codes as an airplane/helicopter cockpit, ground hydraulic power unit and dedicated operative parts like a landing gear and a flap).
Students practice on a didactic aeronautical bench, specially designed with hydraulic components from high branded industrial technology which has the advantage to be less expensive than aeronautical equipments.
With this bench, some of the students goals are:
Securing an hydraulic circuit based on a maintenance documentation associated to the operation,
Preparing an intervention, setting / unsetting subassemblies, carrying out trials related to the intervention,
Diagnosing hydraulic and electrical breakdowns while following safety procedures related to the aeronautical maintenance.
Hydraulic control and wiring desk with landing gear operative part
The bench provides the best conditions to learners to understand the technical specificities and the safety constraints related to the hydraulic aeronautics field with redundant solutions of learners' protection : protected hoses from jet socks and anti-whip cables, biodegradable and nontoxic oil contrary to fluids that are used in the aeronautics etc…
Join the teachers and trainers who have already signed up
Your e-mail address is used only to send you newsletters. You can unsubscribe from them at any time. Consult our
confidentiality Policy
for more details.