PO-GT-v2 Telescopic crane training bench (standalone version)
Unlike the manual version, this operative part does not need to be connected to a didactic bench. It is equipped with a hydraulic power station that allows it to operate in standalone manner.
Similar to a real industrial system
The "Standalone" POGT telescopic crane operative part represents a real industrial system allowing students to be placed in simulated real-life situations and to materialise hydraulic functions.
The kinematics provide for 4 movements: stabilisers, grasping/lifting, telescope, and tipper truck.
This "Standalone" version is equipped with a generation set, with manual/electrical control valves and with a PLC for operation in automatic cycle.
For which sector is this standalone telescopic crane bench intended?
It is intended for the following sectors:
Industrial maintenance,
Equipment maintenance (Agriculture, Public Works, and Parks & Gardens),
Agricultural equipment,
Maritime and naval.
Safety of movements managed bycontrolled valves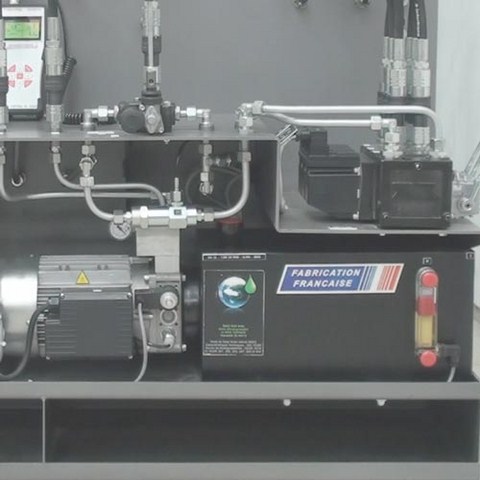 Hydraulic power station with gear pump
Lifting and telescope equipped with balancing valves
Control desk and electrical box with PLC
Modular load of 80 Kg maximum
PVG32 3-element valve – Manual or electrical control
Flowrate, pressure, temperature and data acquisition measurements
Demo video of the "Standalone" POGT telescopic crane operative part
We already equip a large number of training centres, primary and secondary schools, and university institutes of technology (IUTs). We invite you to contact us so that we can define your needs together.